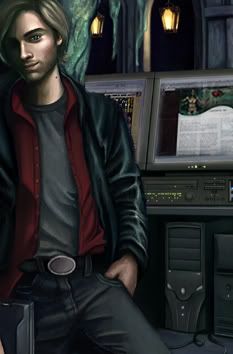 Firstly, quick newsflash - Massive Black are having a Labour Day sale on streaming classes, DVDs and downloads! It ends Tuesday September 8th at 11am Pacific Time, so if there's something you've had your eye on, better snap it up quickly. Go
here
for more details.
-
It's not just about being able to do the job - it's about knowing the right people in the right place at the right time.
Anybody else been told that? I know I have. Almost every time we had a professional from the CG field in to speak to us at university, we found out they got the job through a friend of a friend, a colleague of a colleague (and occasionally through alcohol, but moving on...). It was often stressed on us just how important networking and connections would be in building our careers and getting us from job to job. Great! So how should we go about that?
*crickets chirp*
Hello?
At some point I think most of us are faced with the somewhat herculean prospect of going from an inexperienced nobody to somebody with a wealth of useful contacts and resources at their fingertips. At that point everyone is a stranger, you have no idea where the best places to start putting yourself out there even are, and you also happen to be in a profession known for shy and reclusive personalities. Which probably includes you. Excellent.
It can be doubly scary when the people you want to network with are the same people who blow you away with their talent and art wisdom on a regular basis and whose artwork and tutorials you have probably spent hours staring at, slack jawed in wonder. Kind of awkward, introducing yourself to someone about whom you know you have uttered the phrase, "I want to marry this person" and/or, "I want to
steal their brain
."
For the record, neither of these are a good opening line for an introduction. Just so you know.
As a much younger artist, my networking prowess consisted of typing "fantasy art" into Google and dropping in on sites like Epilogue and Elfwood by pure chance. My sense of isolation was increased by the fact that social media wasn't nearly as prevalent as it is now. The artists I really wanted to talk to seemed aloof and untouchable behind personal
fortresses
websites and apologetic notices that they received too many emails to be able to answer them all.
From that clumsy beginning I slowly built up my list of communities to frequent, the best places to display my portfolio, and friendships with other artists, and as slow a process as it was, all those people who told me that getting to know people was so crucial were absolutely right. Few artists evolve in a vaccuum. Surrounding yourself with creative, supportive, encouraging friends and mentors will help you grow as an artist and keep you sane in the process.
Things are much easier now. Online portfolios and interactive communities go hand in hand. Forums like CGTalk and ConceptArt.org along with Twitter, live painting websites and the mighty blogosphere make great artists much more accessible and approachable - you get to talk with them, hear their advice, watch them work, and best of all you get to do it without feeling like you're intruding on their privacy.
So without futher ado, I present to you a list of the blogs and Twitters of some truly talented and awesome women, who are incredibly friendly and helpful to boot. Enjoy!
Alice Duke
http://alicedraws.blogspot.com/
http://twitter.com/aliceduke
Anne Pogoda
http://sezazu.blogspot.com/
http://twitter.com/Azurelle_Art
Christine Griffin
http://quickreaver.wordpress.com/
http://twitter.com/quickreaver
Char Reed
http://charreed.blogspot.com/
http://twitter.com/charreed
Charlie Bowater
http://twitter.com/charliebowater
Constanza Ehrenhaus
http://faerywitch.wordpress.com/
http://twitter.com/faerywitch
Dani Jones
http://danidraws.com/blog/
http://twitter.com/DaniDraws
Diane Özdamar
http://dianeozdamar.over-blog.com/
Dona Vajgand
http://twitter.com/dnalysis
Ellen Million
http://twitter.com/ellenmillion
Elvire De Cock
http://kokoahouse.wordpress.com/
(French only)
Irene Gallo
http://igallo.blogspot.com/
http://twitter.com/IreneGallo
Jennifer L. Meyer
http://jmeyersketches.blogspot.com/
http://twitter.com/JenniferLMeyer
Jessica Douglas
http://twitter.com/Jessies
Julie Dillon
http://twitter.com/juliedillon
Katie de Sousa
http://katiedesousa.blogspot.com/
Lois van Baarle
http://sketchblog.loish.net/
http://twitter.com/loishh
Marta Dahlig
http://dahlig.blogspot.com/
Mélanie Delon
http://eskarinacircus.blogspot.com/
Melissa Hitchcock
http://twitter.com/melihitchcock
Meredith Dillman
http://meredithdillman.blogspot.com/
http://twitter.com/uminomamori
Michele-lee Phelan
http://twitter.com/dreamsofgaia
Nicole Cadet
http://nixjim13.livejournal.com/
http://twitter.com/nicolecadet
Nicole Cardiff
http://gryphart.livejournal.com/
http://twitter.com/ncardiff
Rebecca Morse (French & some English)
http://pinkmint-gallery.blogspot.com/
Sam Hogg
http://twitter.com/Zephyri
Selina Fenech
http://selinafenech.livejournal.com/
http://twitter.com/selinafenech
Stephanie Pui-Mun Law
http://shadowscapes-stephanielaw.blogspot.com/
Ursula Vernon
http://twitter.com/UrsulaV
And a bonus - live painting channels! Check out their pages for broadcast schedules and show descriptions.
Jana Schirmer (Livestream)

Charlie Bowater (Livestream)
Dona Vajgand (Livestream)
Dani Jones (Ustream)
Melissa Findley (Ustream)
Char Reed (Ustream)
And in case you didn't already know, you can also find Melissa and me at the following locations.
Melissa Findley
http://wickedeye.wordpress.com/
http://twitter.com/Mercuralis
Louisa Gallie
http://maverickmuse.wordpress.com/
http://twitter.com/PhurieDae
EDIT 08/09/09: Added a couple more names to the list! Do you have any suggestions? Let us know in the comments!